ALUP Compressors
About ALUP
ALUP Compressors has over 90 years of industrial experience. It is our ambition to offer compressed air solutions that ensure we are first in choice for our customers. To reach this goal we continuously invest in our product development to make sure that we are always able to offer
❱ High performance and excellent quality
❱ Integrated engineered solutions
❱ Full energy efficiency
❱ Total cost of ownership
❱ Environmental care
ALUP began its success story in 1923 in Köngen near Stuttgart, Germany. From the start, the company focusses on the production of Auto-LUft-Pumpen, a product that gave ALUP it's name. ALUP-Kompressoren established itself in no time becoming a competent partner for many compressed air distributors – and this is exactly what we are still today.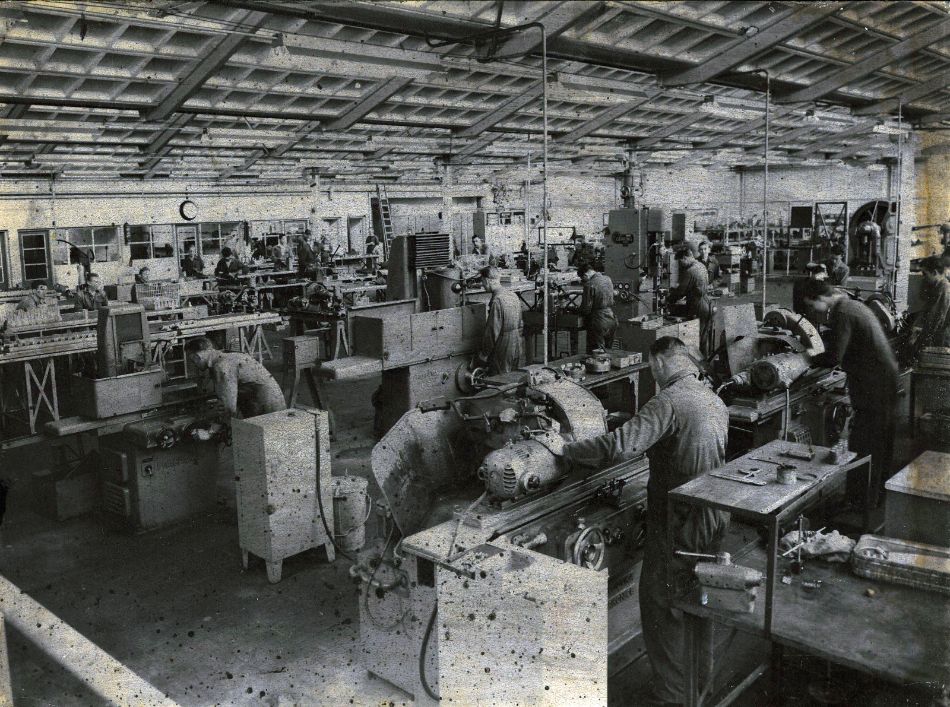 Jack-of-all-trades
Our solutions are developed for all sectors. Thanks to our ingenious combination of energy efficiency, cost efficiency and top performance, we offer you the best solution. We pay meticulous attention to always remaining on the cutting edge of technology. We are constantly evolving and ensure the necessary flexibility, thanks to customer proximity.
A wide range of products
Only those who offer the right product, are able to present the best solution. Our wide product range includes everything from simple professional applications to complete industrial equipment. With us as your partner, you can focus on your core business and rely on us for all aspects regarding your compressed air supply.
Committed to Sustainability
At ALUP Compressors, our commitment to sustainability guides every decision we make. Our goal is to build a better future by enhancing the energy efficiency of compressed air production. Established in 1923, we support sustainable growth and environmentally friendly production by improving compressed air efficiency for industrial companies worldwide.


Product ranges offered by Ash Air
Rotary Screw Compressors
Evolving energy efficiency. Continuous investment in product development has resulted in our most innovative and energy efficient compressor to date. A brand new and groundbreaking drive train coupled with our Imperium inverter has pushed energy efficiency to the next level, bringing energy savings of up to 45%.

Designed with the customer in mind, the Evoluto 45-75 range brings: premium performance at minimal energy costs, newest innovations in one package, and reliable productivity.
Exceptional energy savings: A new and innovative drive train with an in-house designed iPM (interior permanent magnet) motor (IE4), coupled with the Imperium inverter has evolved the energy efficiency of variable speed compressors to a new level, resulting in energy savings of up to 45%.
Largo screw compressors provide high-quality air for wide range of industrial applications. Largo and Allegro compressors are built around three features which make the, stand out: Superior efficiency; Intelligent control; Ultimate reliability and serviceability.

Up to 35% of energy consumption can be saved through a combination of advanced elements, compared to a fixed speed machine of the same size. This series is a brilliant choice for modern engineering and manufacturing facilities. Equipped with Aircontrol 5.1 controllers, the machine operates to its maximum efficiency when you have a full control of your compressed air system.

Designed and manufactured to help you achieve more in your daily operation. Reliable, efficient and easy to operate, the compressor will ensure trouble-free operation while keeping the operating costs at a minimum.
Did you know that energy costs represent about 70% of the total operating cost of your compressor over a 5-year period? That's why reducing the energy consumption of your compressed air installation should be a major focus. For the right application, variable speed technology, such as on the Allegro variable frequency drive compressor, can cut the energy bill of your compressor by up to 35%.

The Allegro reduces energy consumption in the following ways: The variable frequency drive compressor matches air supply with demand therefore reducing energy consumption when the demand is lower. If the demand is stable then the Air Control 5.1 guarantees a fixed set pressure, No unload cycles above 20% load, No peak current due to soft start.

Allegro air compressors are built around three features which make the, stand out: Superior efficiency; Intelligent control; Ultimate reliability and serviceability.
Contact Us about ALUP Compressed Air Solutions today
---
Related links