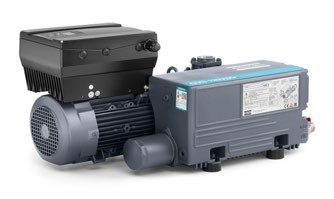 Atlas Copco GVS VSD+ Series Single Stage Oil-Sealed Rotary Vane Vacuum Pumps with VSD
Atlas Copco GVS VSD+ Series Oil-Sealed Rotary Vane Vacuum Pumps with VSD
Atlas Copco – Your intelligent vacuum specialist
At Atlas Copco we have been developing state-of-the-art vacuum pumps for many years, utilizing our core technologies. We constantly aim to innovate technologies, improve performance and target new application areas. The characteristics of our oil-sealed rotary vane vacuum pumps complement those that have made Atlas Copco the standout worldwide supplier of air solutions: high quality, impressive reliability and low life-cycle cost.
With our GVS VSD⁺ range of intelligent rotary vane vacuum pumps, we have taken it a step further by adding intelligence through our Variable Speed Drive (VSD) technology and remote connectivity with our VSD⁺ app.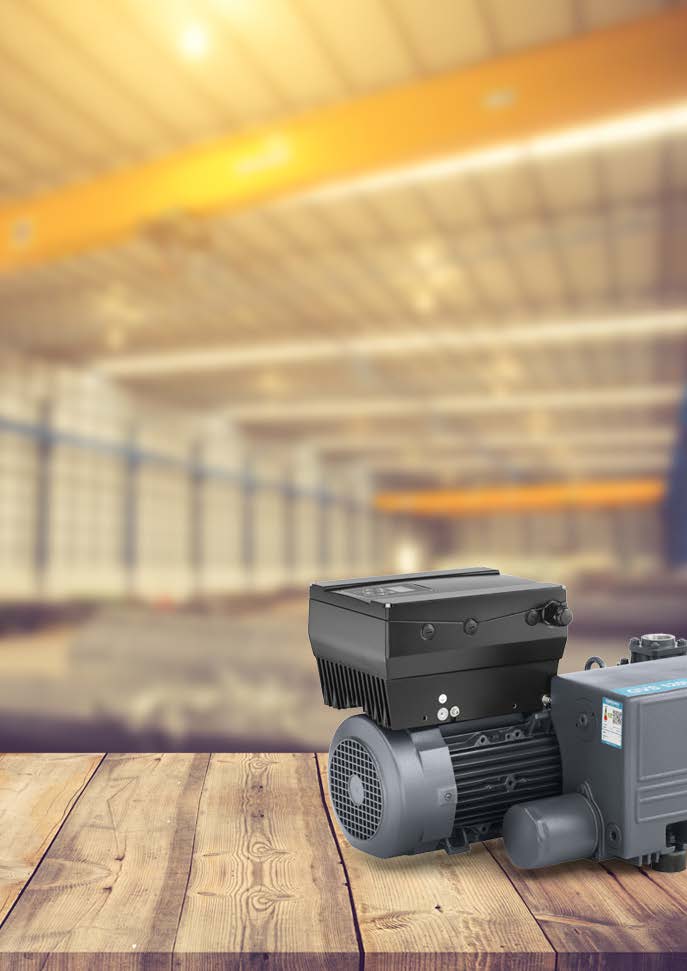 Robust, industry-accepted design
Easy to install due to compact, space-saving design with high reliability through a rugged design and low maintenance and wear due to optimally selected shaft speeds
VSD inverter drive
The built-in variable speed inverter drive technology on top of the pump ensures pressure setpoint control
Remote Monitoring
The GVS VSD⁺ series can be controlled and monitored with the Atlas Copco VSD⁺ app, offering live visualizations of pump performance via Bluetooth
Vacuum pump element
The key components within the element (or stage) have been optimized for efficient vacuum pumping at the lowest possible power consumption and optimal operating temperature
Technical Specifications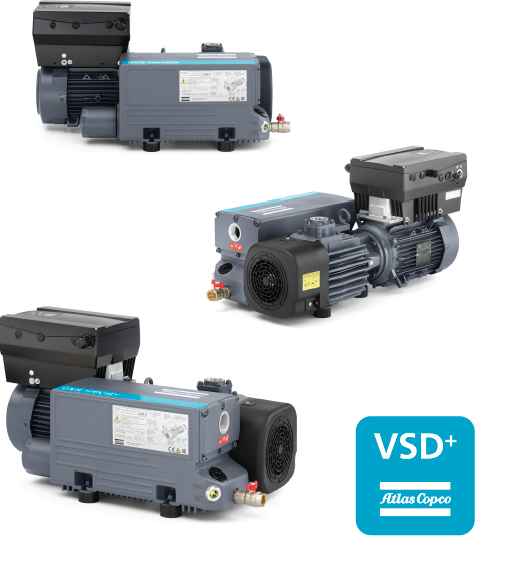 Reliable vane technology with added intelligence and connectivity
The GVS VSD⁺ series is a robust and highly regarded range of vacuum pumps with a technologically advanced marketleading design. GVS VSD⁺ operates according to the proven oil-sealed rotary vane principle that has been successfully used for many years in all general vacuum applications of the industry.
GVS 80-400 VSD⁺ is a range of compact direct-driven rotary vane vacuum pumps that are single stage, oil sealed, air cooled and have the VSD⁺ inverter-drive technology built in. The VSD drive located on top of the pump ensures pressure setpoint control. Control and monitoring are possible with the Atlas Copco VSD⁺ app – available for Android and iOS devices. With a Bluetooth connection, the app offers you live visualizations of the actual performance of the pump. Reliable vane technology with added intelligence and connectivity
Remotely connect to your GVS VSD⁺ intelligent pump

What if a smartphone could control a vacuum pump?
Introducing the VSD⁺ app, a unique application for iOS and Android devices, that lets you control and monitor a vacuum pump with your smartphone. The VSD⁺ app allows you to easily commission your GVS VSD⁺ vacuum pump by only providing three parameters – target pressure, start/stop delay and stop level. Start your pump, connect the VSD⁺ app via Bluetooth, enter the desired parameters and you are set to run your pump.
You may also like