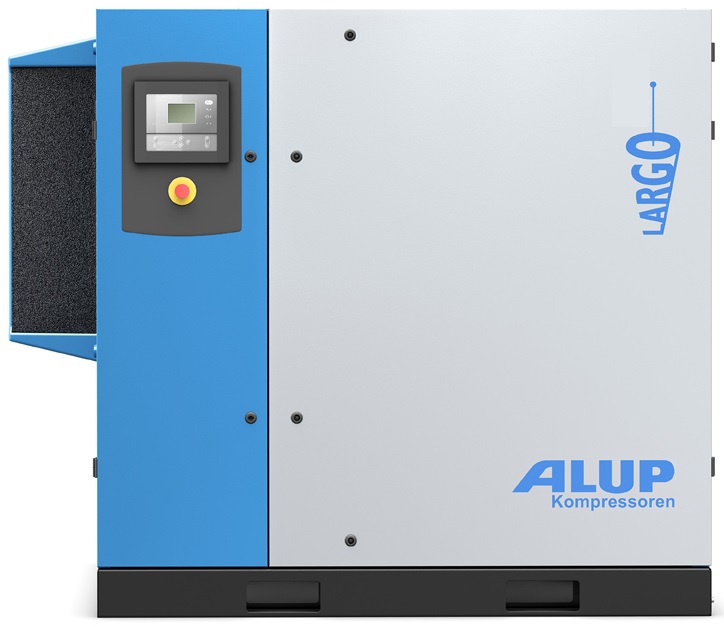 ALUP LARGO 75 Oil Injected Screw Compressor
Advanced Gear Driven Technology for High Technology Applications
Largo 75 screw compressor provide high-quality air for wide range of industrial applications. Largo and Allegro compressors are built around three features which make them, stand out: Superior efficiency; Intelligent control; Ultimate reliability and serviceability.
Up to 35% of energy consumption can be saved through a combination of advanced elements, compared to a fixed speed machine of the same size. This series is a brilliant choice for modern engineering and manufacturing facilities. Equipped with Aircontrol 5.1 controllers, the machine operates to its maximum efficiency when you have a full control of your compressed air system.
Perfectly blend in to workplace
The smart design of the largo screw compressors allow it to perfectly blend into the workplace. The amount of parts inside the unit has been reduced and parts have been placed in a more efficient way. More flexibility and space available with a compact machine.

Simple fixed speed compressor
The reduction of parts make these compressors easier and cheaper to service. Smart positioning of the service parts for greater accessibility. The Air Control 5.1 controller granting you full control, easy operation and remote communication possibilities.
Energy efficient
The Largo screw compressors are energy efficient due to several factors saving you money. The radial cooling fan operates in a much more efficient way.




Fixed Speed Screw Compressor - Largo
The Largo screw air compressor is our fixed speed industrial screw compressor solution and is gear driven. Suitable for when you are in need of a high demand that requires fixed speed. Our Largo screw compressors have been designed from experience to give you the peace of mind of a efficient and reliable compressor. The Largo fixed speed compressor range provide high quality compressed air for a wide range of industrial applications.
You can add on an integrated dryer, filters, water separators and proper draining to make this unit a complete all-in-one solution. With quality products and exceptional service options, we can provide your business with total solutions from beginning to end. We believe that improvement nevers stops and we strive to always keep this motto in mind.
Features
Superior efficiency

In-house design compression elements.

Direct drive transmission.

High-efficiency radial cooling fan.

IE3 / NEMA Premium Efficiency motor.

Integrated air dryer Intelligent control

Aircontrol 5.1 full-colour 3.5 inch HD screen.
Intelligent unload cycle control. • Precise pressure control.

Warning indications.

Graphical indication service plan.

Additional communication possibilities.

Ultimate reliability and serviceability
Proven designs

Reputed brands

Modular design.

Extensive service support.

Designed for harsh conditions and ambient temperatures up to 46°C.
You may also like