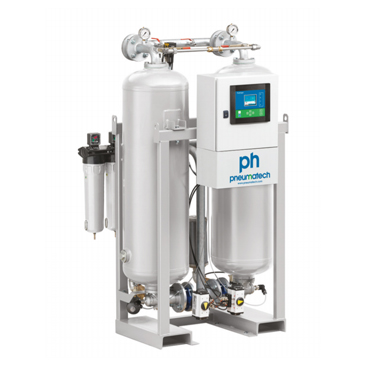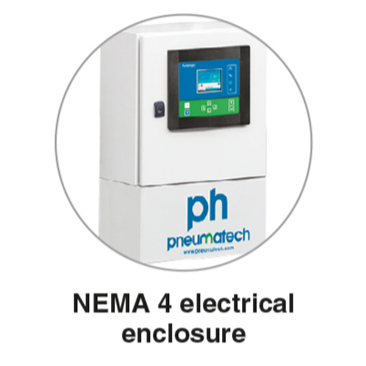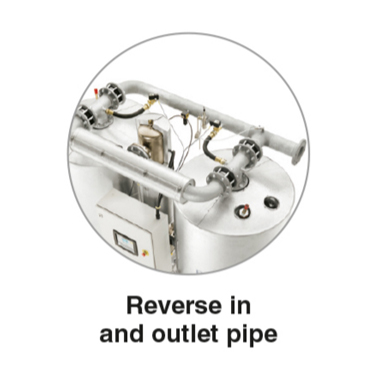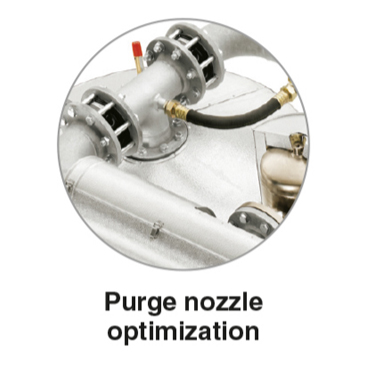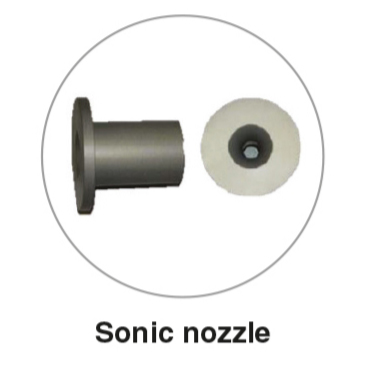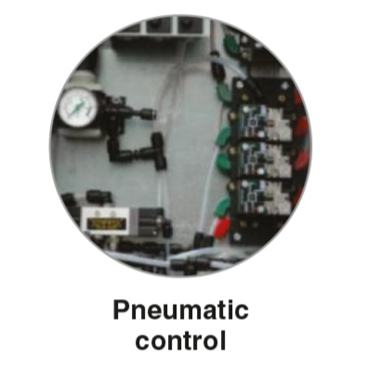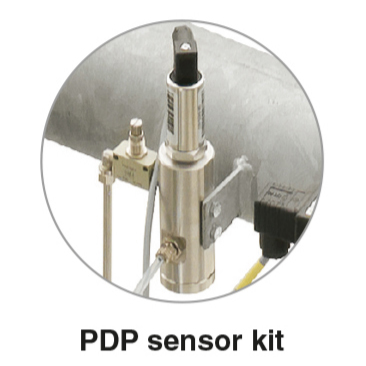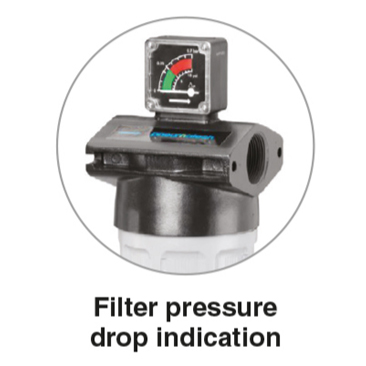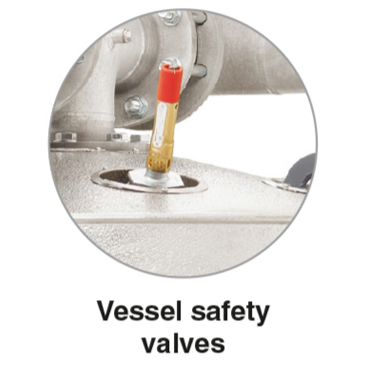 Pneumatech PH 90 - 690 HE Extruded Profile Heatless Adsorption Dryers
Pneumatech PH 90 - 690 HE Extruded Profile Heatless Adsorption Dryers
Incorporating high-quality components, PH heatless adsorption dryers provide you with clean, dry air to extend the life of your equipment and products. Heatless adsorption dryers use dry, expanded purge air to remove moisture from the desiccant material. PH 90-690 HE adsorption dryers are available in 3 PDP variants: -20°C/-4°F , -40C°/-40°F, each optimized to provide the lowest purge loss.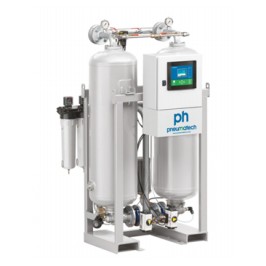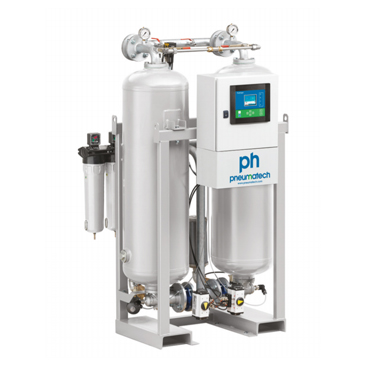 The unique manifold (patent pending) includes pilot air controlled 3/2-way valves, which switch fast and reliably. The pressure drop over the valves is reduced to a minimum. This does not only result in a low pressure drop over the dryer, but also ensures maximum purge air expansion during regeneration. The latter makes that the purge consumption of the dryers has been reduced significantly.
The desiccant is spring-loaded and housed in a robust extruded aluminum body, which can operate up to 14 barg/203 psig (fatigue load). The dryers are equipped with a mounted pre-filter and after-filter as standard and can also be wall-mounted with a specially designed wall-mounting kit (optional). Operating costs are optimized at all times thanks to the availability of compressor synchronization and purge nozzle optimization as standard and PDP control as option.
The full machine status can be checked on the display of the controller and the vessel pressure gauges on the unit. The controller indicates whether power supply is connected, towers are pressurized, valves are functioning properly or preventive maintenance needs to be done. In case the optional PDP control is connected, the PDP value can monitored from the display. Alarms and warnings can also be triggered remote with the available voltage-free contacts. Optionally the PurelogicTM can be used as central brain of the adsorption dryer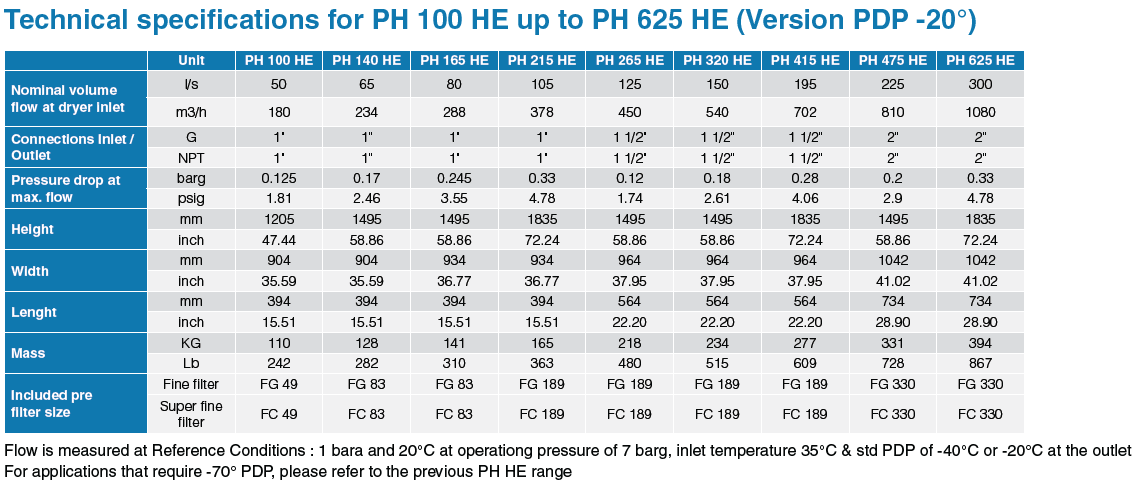 Features and benefits:
• Structured desiccant offers highly effcient air flow and regeneration
• Stable low pressure dew point
• 40% longer desiccant lifetime
• Easy desiccant maintenance
• No desiccant dust that can cause dryer failures and compromise production
• Pneumatic valves add robustness in demanding environments
• Vertical or horizontal installation
• Purge nozzle optimization
• PDP control (optional for DC1 controller)
• Wall-mounting kit (optional for Simplex models)


General Specifications
• Heatless adsorption dryers: extruded profile design
• Dew points achievable: -20°C/-5°F, -40°C/-40°F
• Pressure range: 4-14 barg/58-203 psig
• Ambient temperature range: 2-45°C/36-113°F
• Inlet temperature range : 2-60°C/ 36-140°F
• Power supply: 230VAC 50/60Hz & 115VAC 50/60Hz



What makes PH blower purge desiccant dryers unique?
Purelogic™ advanced control with remote start/stop and web monitoring standard on all models
Quality butterfly and check valves with SST discs
Low kW centrifugal blower with safety alarm
Tower switching based on real-time dew point
Galvanized piping with flanged connections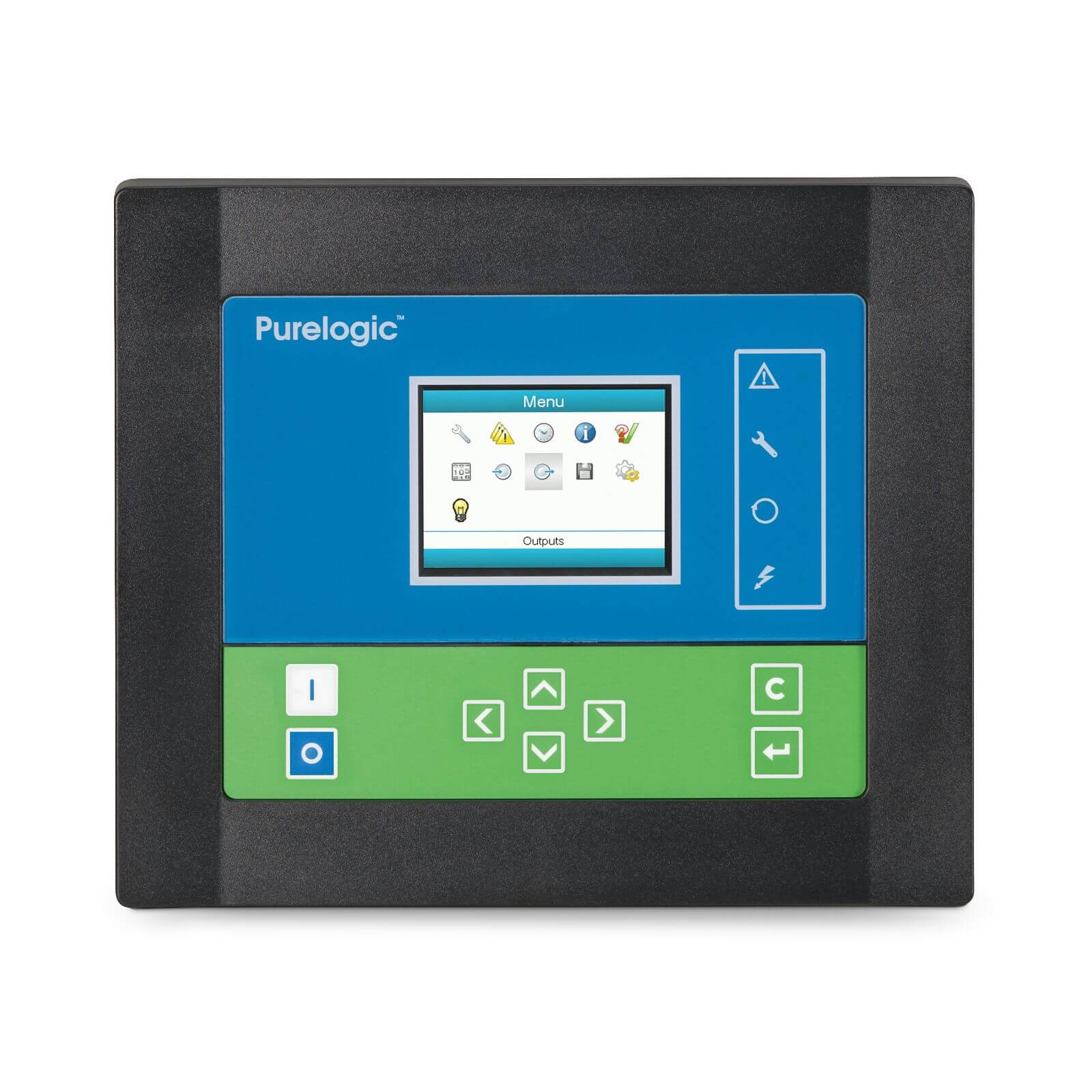 Control and Monitor Your Dryer
The Purelogic™ is the ideal complement to your desiccant dryer. This state-of-the-art control solution will provide optimal control and monitoring of your machines, increased reliability and reduced energy use. Purelogic™ is standard on PE and PB dryers, and is optional on the PH range.


• Easy to use – Purelogic™ incorporates a 3.5" high-definition color display with a multilingual user interface, clear icon indications and Ethernet connectivity.

• Control & monitoring – Purelogic™ displays & controls all parameters to ensure reliable operation of your desiccant dryer.

• Reliable – Heatless backup mode (PE/PB) and choice for auto restart after power failure.

• Safeguards production – Offers a number of alarms that gives the customer the information needed for safe operations
You may also like