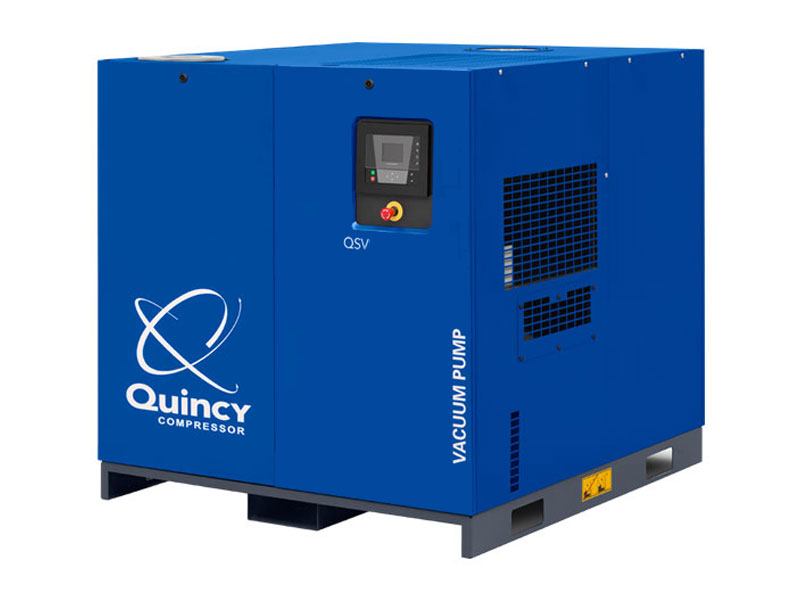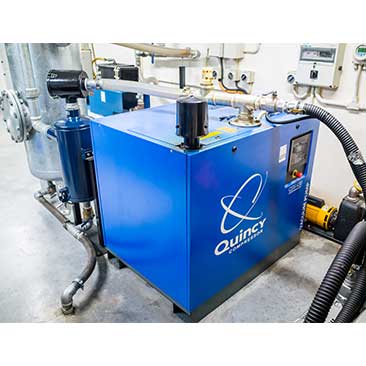 Quincy QSV 750 Screw oil-sealed vacuum pump 1341 m3/h, 0.35 mbar
QSV Vacuum Technology for Tough Applications
The QSV variable drive vacuum pump has been designed to deliver the exact performance you demand, at the minimum possible life cycle cost. As a result, it is ideal for applications where you need to maintain a set vacuum level (a set point). Lower cost of ownership and versatility
Oil-sealed screw vacuum pumps are energy efficient and feature low life-cycle cost. This pump is equipped with variable speed drive and provides full control over vacuum level and flow rate. Screw vacuum pumps are used in centralized vacuum systems for example for packaging in meat production
QSV Series – Industrial, variable speed, vacuum pumps
Power: 5.5 - 37kW
Capacity: 483 - 1811m3 /h
Minimum inlet pressure: 0.35 mbar
Steady, reliable system vacuum
The whole package with electric control system
Up to 50% energy saving through vacuum level control and VSD
Fully integrated solution for plug & play installation
Modulating inlet valve
IE3 – Premium efficiency motor
Industrial vacuum applications require tough, efficient vacuum pumps that can withstand the strenuous pressures of these intense working environments. There are many compelling reasons to consider using Quincy's QSV series rotary screw vacuum technology:
Reason #1
– Efficiency Compare delivered m3 /h (cubic metre per hour) input horsepower to any other design and you will find that Quincy rotary screw vacuum pumps outperform all industry standards.
Reason #2
– Life Cycle QSV vacuum products are designed with compressor duty bearings in a compressor service airend. This translates into extended product life and lower cost of ownership.
Reason #3
– Controls Get the best energy savings available through our AirLogic® controller, Variable Speed Drive, and the dual function modulating valve. Total control and superior value.
Reason #4
– Packaging These vacuum pump packages are supplied standard with full electricals, inlet filtration, base frame and controls. Connect to the system, plug it in and go.
Built for Demanding Environments
Quincy has long been a leading manufacturer of industrial vacuum pumps that deliver efficient performance, exceptional reliability and long service lives. We pioneered the modulating vacuum inlet valve — a key innovation that allows for more precise control and greater performance in even the most demanding applications.
More importantly, when you purchase a QSV vacuum pump, you are working with a company that's dedicated to providing world-class support for all our products. From optional extended warranty coverage to an extensive service and support network, we'll be there for you for as long as you own and run your Quincy machine.
Why Choose the QSV Series?
Your choice of a QSV variable drive vacuum pump is one that will deliver:
Efficient performance, with a ratio of ACFM to input horsepower that outperforms industry standards.
Long life, thanks to its heavy-duty bearing and airend components.
Precise controls, with our AirLogic® controller and dual function modulating valve that produce exceptional energy savings.
A complete plug-in-and-go solution. Units are supplied with full electrical and inlet filtration components, base frame and controls, delivering everything you need in a self-contained package.
You can read more about the many benefits a Quincy QSV vacuum pump offers by downloading the product brochure. Alternately, get in touch with a Quincy compressor representative directly for answers to all your questions.
Introducing the AirLogic® Monitoring System
At the heart of every QSV series vacuum pump is the state-of-the-art AirLogic® monitoring system. Easy to use, with a 3.5" high definition color display, AirLogic® is a comprehensive solution for controlling and monitoring the unit's operating status, recording running/stopped hours, and performing service and maintenance as necessary. By putting these advanced controls at your fingertips, AirLogic® helps you improve overall performance, efficiency and safety. Add on the optional intelligent monitoring system for remote control functionality, data logging and advanced integration with your existing management systems.
Trusted by a Wide Range of Demanding Industries
Quincy QSV vacuum pumps are reliable workhorses that meet the challenges of a number of different industries. Use them for:
Holding, lifting and moving applications, including pneumatic conveying, electronics pick-and-place, printing and bookbinding, woodworking, general packaging and more
Preserving applications, including vacuum sealing meats and other food products, canning, freeze drying, modified atmosphere packaging and more
Forming and shaping applications, including plastic molding, glass forming, packaging materials production and more
Sanitary applications that demand a clean working environment, including altitude simulation, heat treatment and metallurgy, and more
You may also like