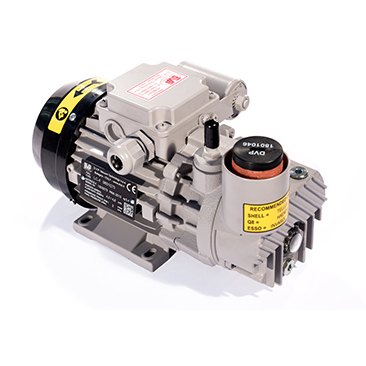 DVP LC.4 Oil-sealed rotary vane vacuum pump, 4 m3/min, 2 mbar
Simple and versatile vacuum pump

Designed for continuous duty in range 2-400 mbar this oil sealed pump can be used for food packing, holding, lifting, thermoforming and many other applications.
The LC.4 pumps are equipped with:
Oil check valve
Exhaust mist eliminator
Gravity oil recovery valve
Rotor and pump body NPO treated
Thermal protector (1~ only)
These pumps are adapted for the evacuation of small sealed containers.
The new LC.4 series pumps already have integrated into their structure a check valve which guarantees the isolation of the equipment when the pump is stopped under vacuum and the FKM gasket positioned to assure a hermetic seal and a long operating time.
Technology: rotary vane
Lubrication: lubricated
Number of stages: single-stage
Flow rate: 4 m³/h, 4.8 m³/h (141.26 ft³/h)
Ultimate vacuum: 2 mbar (0.03 psi)