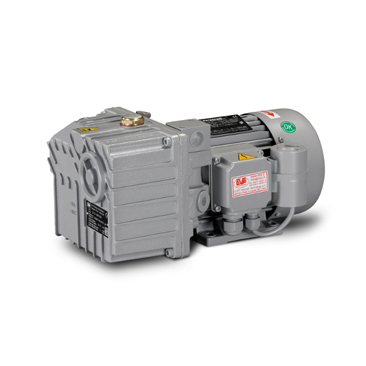 DVP LC.12. Oil-sealed rotary vane vacuum pump, 12 m3/min, 2 mbar
Simple and versatile vacuum pump
Designed for continuous duty in range 2-400 mbar this oil sealed pump can be used for food packing, holding, lifting, thermoforming and many other applications.
The LC. 12 is an oil-lubricated pump, designed with a compact size. The lack of oil vapors in the outlet is due to the effective damping and recovery system integral in the tank. If ever the pump stops under vacuum, it is specially made with a sealing device to stop the oil from being sucked back.
The pump consists of an exhaust mist eliminator, a gas ballast, an oil check valve and a pack of BV32 oil. It is suitable to be used on small closed vessels, and it should have a continuous operation from 400 to 2 mbar pressure.
Technology: rotary vane
Lubrication: lubricated
Number of stages: single-stage
Other characteristics: compact
Flow rate: 12 m³/h, 14 m³/h (423.78 ft³/h)
Ultimate vacuum: 2 mbar (0.03 psi)