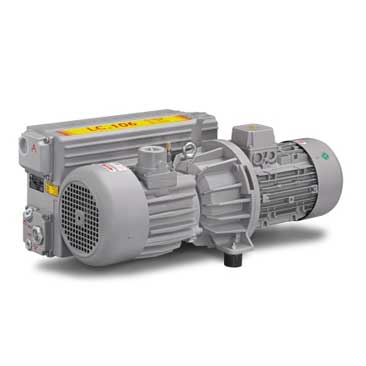 DVP LC.106 Oil-sealed rotary vane vacuum pump, 106 m3/h, 0.1 mbar
Simple and versatile vacuum pump
Designed for continuous duty in range 0.1-400 mbar this oil sealed pump can be used for food packing, holding, lifting, thermoforming and many other applications.
Compact design, low noise level, ease of oil check and refill and simplified maintenance operation, are the main features of this series.
The damping and recovery system, equipped with a by-pass, together with the new float type oil recovery valve, ensures the absence of oil vapours at the outlet.
Moreover, a sealing device prevents the oil from being sucked back should the pump stops under vacuum.
The motor-pump connection is via a flexible drive coupling.
The standard version is suitable for continuous operation within a pressure range from 400 to 0,1 mbar (Abs.).
Standard equipment includes:
Exhaust mist eliminator
Gas Ballast with cut-off valve
Oil check valve
Pack of BV100 oil
Technology: rotary vane
Lubrication: lubricated
Number of stages: single-stage
Other characteristics: compact
Flow rate: 106 m³/h, 127 m³/h (3,743.35 ft³/h)
Ultimate vacuum: 0.1 mbar (0 psi)