What to Look for When Purchasing a Rotary Screw Compressor
Check out this blog and video included to help you know what you should be looking for when you're thinking about purchasing a Chicago Pneumatic Rotary Screw Compressor for your shop or application. If you want to learn about what a screw compressor actually is, check out this article
If you're a large or small production facilities or factory, a large garage or workshop, or just someone that needs a lot of compressed air, rotary screw compressors are often the compressor of choice.
First of all, you want to make sure that the compressor you buy can supply the amount of compressed air you need to do the job. In alot of cases, people don't know what actually need and end up buying an air compressor either that generates too little air. Usually when you buy a rotary screw compressor it's because it a) might be your first air compressor b) it's a replacement of an old screw compressor c) you need more air capacity than a piston compressor can deliver d) you need more air capacity than your current screw compressor delivers
So, with that out of the way... you want to make sure that:
1) Make sure you appropriately size your compressor

You want to make sure sure that your compressor is running continuously throughout the day to match your air demand, especially when you're looking at a fixed speed compressor. You don't want to have that machine starting and stopping all day because you're not meeting your air demand.
Then you know depending on the size you want, you want to have a look at the types of controls a compressor has - so a compressor with a simple electro pneumatic control type like our Chicago Pneumatic range has gauges with easy to read lights. When you step up in compressor size, you will see more advanced types of controls, which will show maintenance hours. If you're looking at say a 7.5HP rotary screw compressor you want to make sure you're getting the right flow for demand.
2) Air flow is right for your demand
As a basic guideline, you want to have a look at the spec sheets of your pneumatic equipment. You should be able to have a look and see the amount of air it needs, and the pressure at which the equipment operates at. You want to make sure that the part that needs the highest pressure is addressed as this will dictate the required pressure. You'll need to account for pressure drop and load and unload differential of your compressor. Once you've done that, you need to add up the consumption of your equipment and it will give you the capacity of your air compressor. You'll want to buy a bigger compressor to ensure it isn't over working, but not too bit.
Check out this great video by CP Compressors:
As you've probably Googled, you'll see there are many many different screw compressors with extras and options. The question you may be asking is:
What about the extras? Filters? Integrated Air Dryers? Condensate traps?
Air dryers and filters:
Chicago Pneumatic offer a all-in-one solution (sometimes called 'total solution' or 'full feature'. This means you get an air compressor with integrated compressed air dryer and sometimes also compressed air filters included.
For most systems, we recommend a compressed air dryer, as well as compressed air filters. With compressed air being naturally somewhat wet and sometimes oil as you can expect with oil lubricated compressors, air dryers and air filters work to combat this and improve your compressors longevity, saving your equipment from premature failure.
Electronic condensate traps:
A mechanical condensate trap (with the floater) can become clogged and subsequently results in being a top maintenance issue for screw compressors. When it non-functions, the condensate trap will result in lots of water in your compressor - not good! If you have a service plan in place, check the drain on your receiver super regularly, every week or so you'll be able to know when it stops working. However, if you don't have time for that run about, an electronic condensate drain is the way to go and can be installed at a later date.
Variable Speed Drive:
A variable speed drive compressor matches the output capacity to the actual demand. In simple terms, it simple let's the compressor run faster or slower, depending on the current pressure. A VSD compressor is a good choice when it runs at 50 – 80% load. This is where the money-saving is. Plus it allows the compressor to heat up, which will prevent lot's of maintenance issues.
Aftercoolers:
On most stationary screw compressors, an aftercooler in standard. I would always choose to have an aftercooler anyway. Without the aftercooler, the compressed air leaving your compressor would be around 80 – 100 degrees, which is too hot to fed into most air dryers, air piping or air tools.
Besides that, the aftercooler removes huge amounts of water from the compressed air. If you don't have an aftercooler, all this water stays in the compressed air (as gas) and condensates when it cools (in piping system, tools, equipment.)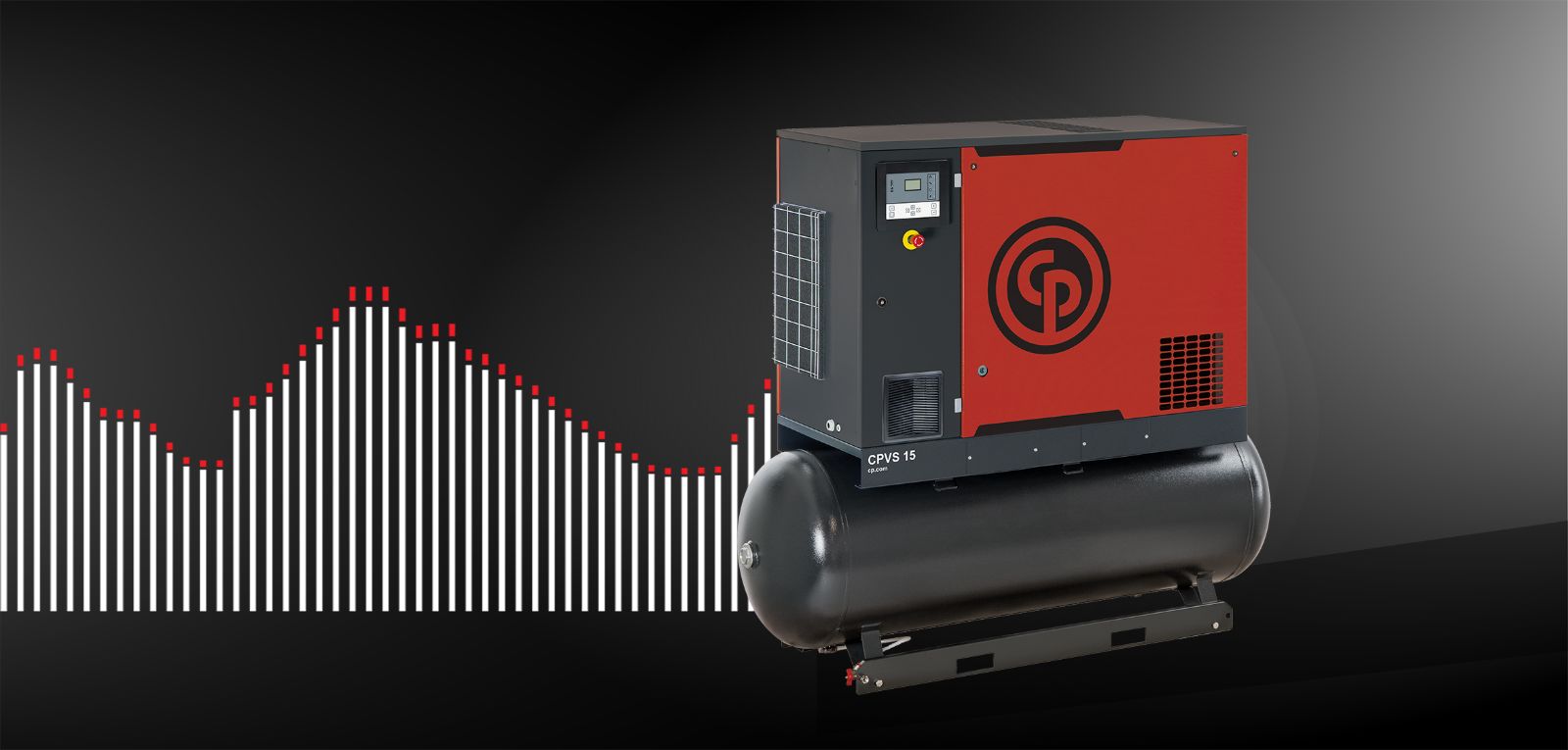 Have a look at our range of Rotary Screw Compressors by Chicago Pneumatic, trusted by businesses required compressed air for their operations longevity throughout New Zealand...
Here's some examples of our Chicago Pneumatic Compressors models we have on offer:
Fixed Speed
VSD
Ash Air has been around in New Zealand since 1979, and we've grown into a nationwide company with international support and a reputation for quality and reliability.

We have more than fifty qualified service engineers working throughout the country, and with 13 locations nationwide, we're here for you and your business' longevity around the clock. We take pride in the quality of our service and in our dedication to help our customers solve their problems. This is why we are considered a business partner by our customers! See the services we offer here
Make sure that you get in touch today, for expert compressed air service and products!
Who we are and how Ash Air can help your business!
Ash Air has been around in New Zealand since 1979, and we've grown into a nationwide company with international support and a reputation for quality and reliability.We look after all things compressed air for your business!
Reciprocating, Screw, air compressors
Vacuum pumps
Nitrogen
An extensive line of air treatment components
Ash Air's range of Chicago Pneumatic, Alup, Pneumatech, and Quincy compressors are used extensively around the world in industries ranging from oil and gas to food, automotive and farming, and we bring you these world class compressors here in the land of the long white cloud.Our technicians are compressed air equipment experts and are dedicated to addressing customer needs. Supported by a 13 locations nationwide, Ash Air offers one of the widest selections of compressed air equipment and parts available today in New Zealand.
Reliability and Efficiency
With Ash Air compressors, you can count on reliability and high performance for even the most demanding applications. We focus our efforts on the following:
Increasing uptime
Reducing unexpected repairs
Reducing energy consumption
Improving the cleanliness of compressed air



Talk to the team today: CONTACT US CONTACT US
Read more from our #expertcorner