Air Compressor Installation Tips
Installing Your Reliable Air Compressor
So, you've just bought an efficient and reliable ALUP air compressor? Welcome to the world of compressed air. As your partners in compressed air, we will continue to assist you along your journey. We have provided air compressor installation tips to ensure you get the most out of your air compressor. We hope to continue to assist as you build your compressed air system and any compressor maintenance you will need along the way.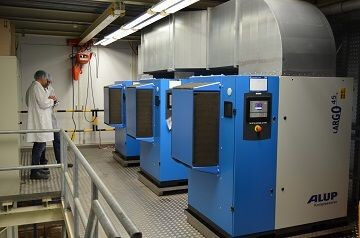 You just bought an ALUP compressor? Congratulations on a smart investment! 
Superior efficiency and reliability are built-in but do require proper installation. These 10 tips will help your ALUP compressor run smoothly and optimally - without costly downtime.
Ensure that the compressor is installed horizontally on a flat, solid floor
Keep enough space around the unit to allow for proper airflow and easy maintenance.
Remove the red transport spacers once the compressor is operational.
Make sure the main switch allows for a lockout/tag out protocol and use the proper fuses.
Install cable glands to protect electrical wires and prevent dust penetration.
Perform a rotation direction check after installation and every time the unit is reconnected. This is different for fixed-speed and VSD compressors, so make sure you read the installation instructions.
Ensure that each compressor has its own pressurized drain system to prevent back pressure, drain blockage, and reduced filter lifetime.
Keep the compressor room well-ventilated to guarantee the optimal performance of your compressor.
Do not connect waste drains. This prevents drain blockages and extends filter lifetimes.
Make sure the compressor room has the proper equipment to lift heavy parts.
By following these tips - along with the other installation instructions - you guarantee that your new ALUP compressor will always deliver top-quality air with maximum uptime and alow total cost of ownership.
Who we are and how we can help!
Ash Air has been around in New Zealand since 1979, and we've grown into a nationwide company with international support and a reputation for quality and reliability.
We look after all things compressed air for your business!
Reciprocating, Screw, air compressors
Vacuum pumps
Nitrogen
An extensive line of air treatment components
Ash Air's range of Chicago Pneumatic, Alup, Pneumatech, and Quincy compressors are used extensively around the world in industries ranging from oil and gas to food, automotive and farming, and we bring you these world class compressors here in the land of the long white cloud.
Our technicians are compressed air equipment experts and are dedicated to addressing customer needs. Supported by a 13 locations nationwide, Ash Air offers one of the widest selections of compressed air equipment and parts available today in New Zealand.
Reliability and Efficiency
With Ash Air compressors, you can count on reliability and high performance for even the most demanding applications. We focus our efforts on the following:
Increasing uptime
Reducing unexpected repairs
Reducing energy consumption
Improving the cleanliness of compressed air
Extensive Product Line
We offer a broad array of products, from world class compressor brands, including a full range of rotary and reciprocating air compressors from ½ to 200 horsepower. We serve the compressed air needs of many industries such as the following:
Oil and gas
Light industry
Construction
Automotive
Marine
Medical
Food and beverage
Solutions
In our effort to prioritise the needs of our customers, we work hard to provide solutions. We continually introduce innovative products here at Ash Air to our Kiwi customers, so our end users can rely on us to meet evolving compressed air needs.
Support
We offer an extensive array of air compressor parts and services through our direct locations throughout New Zealand. Continued growth means our operations continue to operate on a national level.
In our effort to provide the best possible support, we offer the following remote monitoring, preventative maintenance, vacuum pump services and overhaul, compressor and pipework installations, hire fleet and leasing solutions, leak detection's and energy audits, and breakdown recovery and emergency air.
When considering new energy-efficient air compressors or an upgrade to more energy-efficient machinery, Ash Air can help you make the right choices for your business.
Read more from #expert corner!