5 Tips to Save Energy on Your Compressed Air Installation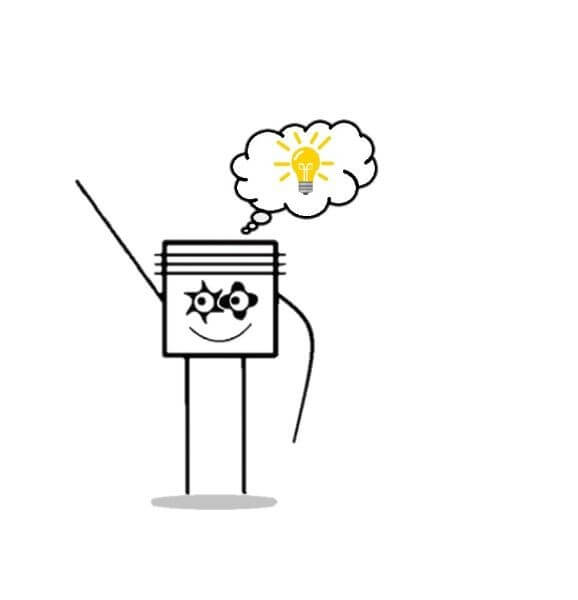 Did you know that 70% of the total cost of a compressor installation consists of energy costs? This is something to consider when working out your compressed air budget. Below we have provided tips on how to save on energy costs while taking the environment into account. We are your partners in compressed air and ensure you are provided with all the compressed air knowledge available. 



Tip 1: The Right Pressure!
Make sure your compressor installation is operating at the correct pressure. A reduction of the pressure of 1 bar means a saving of 7-9% of the total power input of a compressor.
Frequency-controlled compressors often have an adjustable operating pressure between 4 and 13 bar, accurate to 0.2 bar.
Get good advice about the right pressure range for your application; that saves you energy and therefore money.
Tip 2: Use Energy Recovery
A lot of heat is created during the compression of air in your compressed air system. Efficient recycling of the heat produced by your compressor can save you a lot of money. By using a heat exchanger, the residual heat can be used for, for example, heating up steam boilers, process water or even your central heating system. By using energy recovery you can save up to 80% of the installed capacity in energy. 


Tip 3: Provide Central Compressor Control
Your compressed air installation is optimally used by a central compressor control. The control ensures the correct combination of compressors are used and the correct setting of the system pressure. This makes optimal use of the machines at your locating and can prevent unnecessary use of compressed air.



Tip 4: Prevent and Repair Leaks
A compressed air leak of 3mm at a pressure of 7 bar will quickly cost you €1300 per year. The higher the pressure, the higher the air loss and the higher your costs. By replacing old and bad couplings and hoses, or worn seals you can prevent energe losses. A solid and reliable compressed air line network ensures distribution of compressed air to the end user without pressure drop and leaks. In addition, periodically checking your compressed air system by using ultasonic leak detection can ensure rapid detection of leaks and save energy. Have your compressed air installation regularly checked for leaks and prevent unnecessary loss of compressed air.


Tip 5: Maintain Your Compressor Correctly
By properly maintaining your compressed air installation, the system remains in optimal condition and you prevent energy loss. Using genuine parts made for the specific application in your compressor ensures correct operation and maximum energy efficiency. A compressor that works correctly is the most efficient for your wallet.
Investing in Sustainability
If you invest in energy-efficient compressed air, you are eligible for an energy investment allowance (EIA), with an average tax benefit of 13.5%. In addition, energy-efficient investments provide you with significant cost savings due to a lower energy bill. Our advisers are happy to carry out a compressed air measurement at your location to map out your potential energy savings.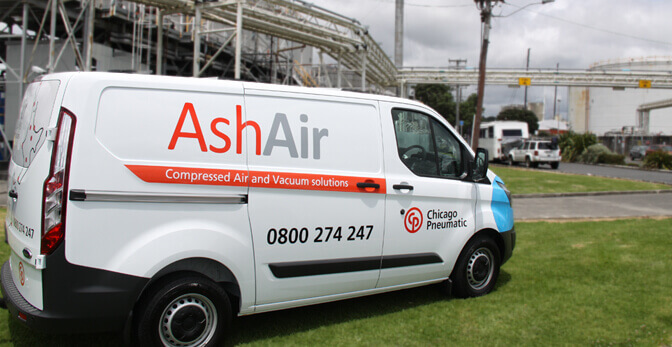 Who we are and how we can help!
Ash Air has been around in New Zealand since 1979, and we've grown into a nationwide company with international support and a reputation for quality and reliability.
We look after all things compressed air for your business!
Reciprocating, Screw, air compressors
Vacuum pumps
Nitrogen
An extensive line of air treatment components
Ash Air's range of Chicago Pneumatic, Alup, Pneumatech, and Quincy compressors are used extensively around the world in industries ranging from oil and gas to food, automotive and farming, and we bring you these world class compressors here in the land of the long white cloud.
Our technicians are compressed air equipment experts and are dedicated to addressing customer needs. Supported by a 13 locations nationwide, Ash Air offers one of the widest selections of compressed air equipment and parts available today in New Zealand.
Reliability and Efficiency
With Ash Air compressors, you can count on reliability and high performance for even the most demanding applications. We focus our efforts on the following:
Increasing uptime
Reducing unexpected repairs
Reducing energy consumption
Improving the cleanliness of compressed air
Extensive Product Line
We offer a broad array of products, from world class compressor brands, including a full range of rotary and reciprocating air compressors from ½ to 200 horsepower. We serve the compressed air needs of many industries such as the following:
Oil and gas
Light industry
Construction
Automotive
Marine
Medical
Food and beverage
Solutions
In our effort to prioritise the needs of our customers, we work hard to provide solutions. We continually introduce innovative products here at Ash Air to our Kiwi customers, so our end users can rely on us to meet evolving compressed air needs.
Support
We offer an extensive array of air compressor parts and services through our direct locations throughout New Zealand. Continued growth means our operations continue to operate on a national level.
In our effort to provide the best possible support, we offer the following remote monitoring, preventative maintenance, vacuum pump services and overhaul, compressor and pipework installations, hire fleet and leasing solutions, leak detection's and energy audits, and breakdown recovery and emergency air.
When considering new energy-efficient air compressors or an upgrade to more energy-efficient machinery, Ash Air can help you make the right choices for your business.


Read more from #expert corner!