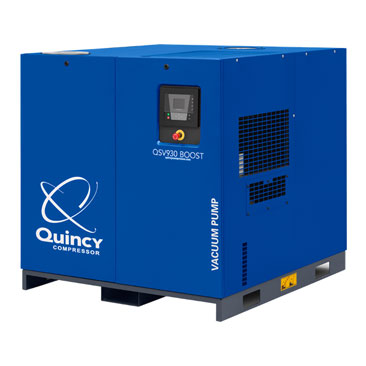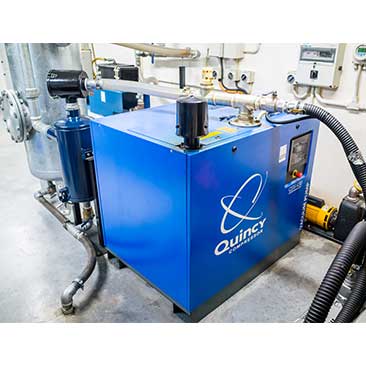 Quincy QSV 205 Screw oil-sealed vacuum pump 483 m3/h, 0.5 mbar
Lower cost of ownership and versatility
Oil-sealed screw vacuum pumps are energy efficient and feature low life-cycle cost. This pump is equipped with variable speed drive and provides full control over vacuum level and flow rate. Screw vacuum pumps are used in centralized vacuum systems for example for packaging in meat production
QSV Series – Industrial, variable speed, vacuum pumps
Power: 5.5 - 37kW
Capacity: 483 - 1811m3 /h
Minimum inlet pressure: 0.35 mbar
Steady, reliable system vacuum
The whole package with electric control system
Up to 50% energy saving through vacuum level control and VSD
Fully integrated solution for plug & play installation
Modulating inlet valve
IE3 – Premium efficiency motor
Industrial vacuum applications require tough, efficient vacuum pumps that can withstand the strenuous pressures of these intense working environments. There are many compelling reasons to consider using Quincy's QSV series rotary screw vacuum technology:
Reason #1 – Efficiency Compare delivered m3 /h (cubic metre per hour) input horsepower to any other design and you will find that Quincy rotary screw vacuum pumps outperform all industry standards.
Reason #2 – Life Cycle QSV vacuum products are designed with compressor duty bearings in a compressor service airend. This translates into extended product life and lower cost of ownership.
Reason #3 – Controls Get the best energy savings available through our AirLogic® controller, Variable Speed Drive, and the dual function modulating valve. Total control and superior value.
Reason #4 – Packaging These vacuum pump packages are supplied standard with full electricals, inlet filtration, base frame and controls. Connect to the system, plug it in and go.